What initially started as an attempt to get Sean to try new vegetables, has morphed into a challenge to get him to
try new things!
The broader problem really seems to be that he has become very reluctant to try new things, and I can tell you he is very resistant to change. So, I've decided to use this challenge as a way to introduce him to new tastes, textures, just get him to try something new! We started last night by making Alphabet Soup with Albondigas (which is Spanish for meatball, in case you were wondering!). Now, he does indeed like meatballs, loves them actually, but these were 1) in soup (which he won't eat) and 2) surrounded by vegetables (gasp! the horror). It took a little work, but he did finally try one of the meatballs and to his surprise, they were quite tasty! We got him to try a sip of the broth, which he also discovered he liked! And of course the alphabet pasta was deemed acceptable as well. Did he actually take a bite of a vegetable? No. But you don't understand. He tried something new. Without throwing a fit. Without a fight. And to top it off, he liked what he tried!! I deem that a success.
Here's a picture of my helper (before Kung Fu Panda lured him away!)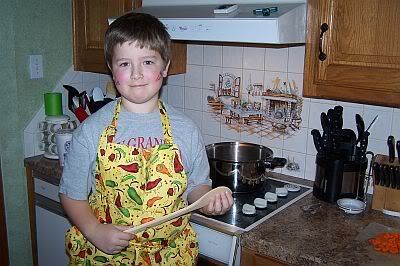 For the Alphabet Soup, I used a
recipe of Emeril's
that I found on the Food Network's website. I made a few changes, though. I used 1 quart of beef broth, and 6 cups of water. I also added the meatballs, which weren't in the original recipe. Here's what I did for the meatballs...um, albondigas. :)
1 pound lean ground beef
3 slices bread, crusts removed
1/2 cup milk (approx)
1 egg
1 tsp Baby Bam (from Emeril's recipe above)
2-3 Tbsp fresh grated parmesan cheese
In a mixing bowl, tear the bread into small pieces and pour the milk on top. Let soak for a few minutes. Add remaining ingredients and mix well. Shape into small meatballs, and once the soup is boiling, drop the meatballs into the soup one at a time. Return to boiling and cook 20-30 minutes until done. (once the meatballs were cooked through, I added the alphabet pasta and cooked about 15 more minutes until the pasta was done)
Enjoy!!