Now, when I talk about my recipe box, or recipe file, you're probably thinking about something cutesy like this, aren't you?
Nope, not so much. Try this on for size: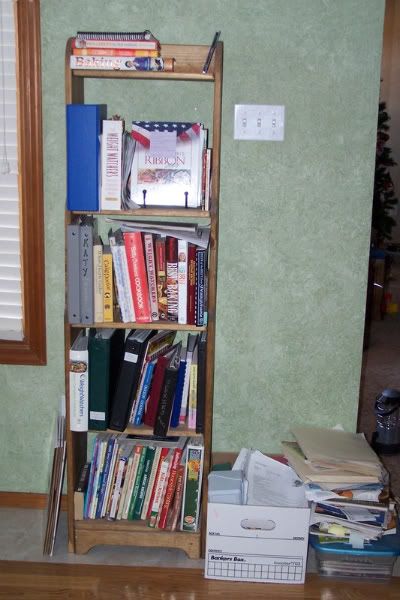 Those boxes on the floor, they're also full of recipes and cookbooks. And that doesn't count all the ones on the computer!! Yeah, I may have a few too many, lol!! So, I'm trying to be better and pick at least one new recipe to cook each week. I'm trying to add to the "tried and true" favorites. I admit, I should probably go through the boxes and get rid of the stuff that I'm truly never going to use, because I'm sure there's some of that in there. But I get emotionally attached to stuff, I admit it! I'm a full-fledged packrat. However, I'm trying to let go and de-clutter. A little.
Anyway, the real point of this post is that I pulled out a new recipe to try today. I also need to admit that I don't always save the source of a recipe. So, when I post a recipe on here, I will give credit to the source when I know it, but like I said, I don't always know where they came from!! This is one of those recipes. I found it somewhere on the internet, probably a couple of years ago. :)
BBQ Ribs in Crock Pot
5 lbs boneless pork ribs
1 bottle BBQ sauce
1 cup ketchup
1/2 cup packed brown sugar
4 Tbsp vinegar
2 tsp dried oregano
2 tsp Worcestershire sauce
dash of hot sauce
Brown ribs in a skillet or in a 400'F oven. Mix together all other ingredients in a small bowl. Place ribs in crock pot. Pour sauce over ribs and toss to coat. Cook on low 6-8 hours until ribs are tender.
**Okay, first I halved the recipe because I bought a smaller package of ribs on sale at the grocery store. I didn't brown the ribs. I just didn't feel like it today, lol. This is cooking and smells really, really good! I'll come back later to post a review.
***Update: it was really good! D wants me to leave the vinegar out next time to see if it makes a difference, but even Sean asked for more, so it's a keeper! :)