Merry Christmas!!
Merry Christmas everyone!! We have two days of celebrating around here, and I've already gotten three new cookbooks, lol, as well as more cooking supplies and gadgets. :)
I also made this sinfully delicious new goodie --
Loaded Triple Chocolate Bark
from Rebecca at
Ezra Pound Cake
. Oh. My. Goodness. Chocolate. More chocolate. Even more chocolate. Coated pecans. And coconut. Yeah. It's that good.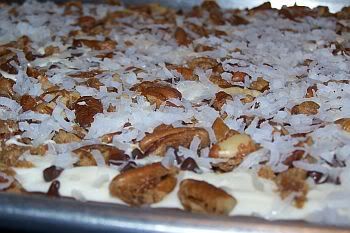 I didn't make it exactly as written. I had chocolate and white almond bark on hand, which melts wonderfully in the microwave. I also didn't melt a third chocolate, but sprinkled mini semi-sweet chocolate chips on top instead. And then of course the pecans and coconut. Did I mention it was sinfully delicious??
Later!